About Nadine & Maya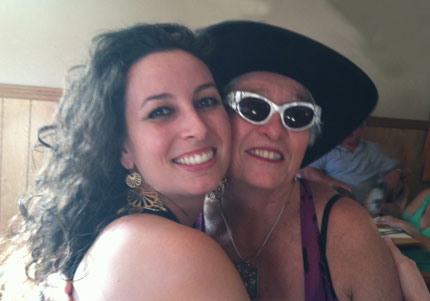 Nadine Ifrah Leo and her daughter Maya Ella Nelson own the Mississippi River Pearl Jewelry, Co, est. 1982. They work side by side specializing in creating jewelry with natural pearls from the Mississippi River. For 25 years, Nadine traveled the American Rivers acquiring natural pearls from clammers, especially the upper Mississippi River.
Nadine owns one of the largest collections of American Natural Pearls today. She has supplied many of the finest jewelers around the world including Tiffany & Co, Harry Winston, Mikimoto, etc. She sold a 24mm Mississippi River Pearl to Queen Elizabeth's jeweler that was subsequently used in Princess Diana's Ring.
Both Nadine and Maya enjoy creating one of a kind jewelry together and spending special time on each design. Each pearl is unique and requires a great deal of creativity to design the perfect piece of jewelry to properly compliment the pearl.
Maya is becoming a greater force in both the designing of jewelry and the management aspects of the business. Maya has a Bachelors Degree from Arizona State University in Business and Communication; where she also took classes in jewelry making.
Nadine is also an oil painter and is passionate in all aspects of her life. She has a Bachelors of Fine Art from Minneapolis College of Art and Design, and a degree from Les Arts Appliques from France. She has and still is taking classes from some of our finest American Painters, such as R.S. Riddick, Dave Powell, Dan Gerhartz, and John Coleman, etc. She is also currently writing a book called Tales of the Pearl Queen, which is about the history of the American Pearl, with extensive data collected in her years of traveling.
We hope you enjoy what we create as much as we love designing it.